For those ready to deepen their practice and share it with the world, our yoga teacher training offers a deep dive into the sacred tradition of yoga while cultivating personal intuition and authenticity.
Our Yoga Teacher Training program is a commitment to your spiritual path.
It is a journey of self awareness, healing and offering. We aim to not only study and perform the practices, but to embody them so that yoga becomes a way of life. We encourage curiosity and whole-heartedness in order for each student to find a "home" within this vast practice.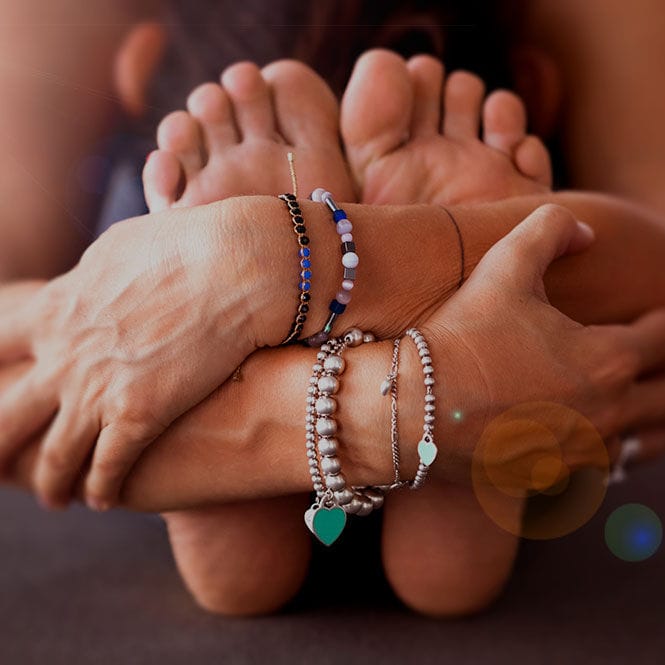 Deepen your practice
Go deep beneath the surface of the practices of asana, pranayama, meditation as well as yogic lifestyle and philosophy.
Live your yoga
Discover your most authentic relationship with yoga so you can embody it and live it.
Real teaching experience
Learn to create, sequence and guide classes, and gain teaching experience within the training itself.
Become a certified teacher of Hatha, Vinyasa and restorative styles through our Foundations Yoga Teacher Training, a 200-hour Yoga Alliance Certified Training, available in-person or online.
Our Advanced Yoga Teacher Training focuses on the awakening of Kundalini energy, through refining techniques of pranayama, meditation and working with subtle energy. This is a 300-hour training, for students who have already completed their initial 200-hour training, available only in-person.
By completing both the Foundations and Advanced Trainings, you achieve your 500-hour Yoga Alliance qualification.
Learn how to teach a variety of yoga styles: Restorative, Hatha and Vinyasa.
Practice and teach pranayama and meditation.
Enjoy Pachānanda's epic location among the sacred mountains and ruins of Cusco.
Gain real-life teaching experience.
Be supported in the process: One of our teachers guides you as a mentor.
Explore subtle energy techniques with a focus on the rising of Kundalini (Advanced Training).
Experience yoga nidra and SacredDance.
Foundations Yoga Teacher Training
Vinyasa, Hatha, Restorative Styles.
200-hours Yoga Alliance Certified
Asana Alignment
Pranayama and Meditation Techniques
Yogic Texts and Philosophy
Ayurveda, Sanskrit, Energy Anatomy
Sacred Space and Authentic Offering
Creating and Leading Classes.
The Role of Teacher
Living Your Yoga
This training is also available on-line!
$2950 USD
Shared Accommodation
$3650 USD
Private Accommodation
September 10 to October 7, 2023
Advanced Yoga Teacher Training
Refining the Practices & Awakening Kundalini Energy.
300-hours Yoga Teacher Training
A Focus on the Rising of Kundalini Energy
Deepened Meditation Practices
Advanced Pranayama Techniques
A Deeper Exploration of Energy Anatomy
Psychic Development
Refining Mantra & the Yoga of Sound
Exploring Tantra, Dreams and Free Movement
Practice and Lead Yoga Nidra
$5200 USD
Shared Accommodation
$6300 USD
Private Accommodation
Vinyasa, Hatha, Restorative Styles.
200-hours Yoga Alliance Certified
How much yoga experience do I need to have?
Participants always range in their experience level with yoga, from more beginners who are inspired on their new path of yoga, to people who have been practicing for decades and have decided to take this next step.
Are you already practicing yoga? And you have a calling to dive in deeper? This is enough. A variety of levels in the course is actually really HELPFUL to everyone, since that is what the world is like outside of the training.
I have an injury or physical limitation, can I still join?
For most people who have some physical issue, we can work with you in the context of the training to make it fit for you. In fact, physical injuries or chronic pain can be such amazing teachers in our path of yoga, and we welcome them into our training experience. Your physical limitation or pain can become a great ally for you as you step into the role of teacher, because it helps you understand where other people with injuries are coming from, and gives your very direct personal experience on how to guide them in their practice. If you have any doubts about how your body/injury/limitation will fit into this training, please contact us to talk about it!
Who leads the training?
Your lead trainer is Niki Coate, founder of SacredDance and Pachānanda.
Along with other Pachānanda teachers:
What's the schedule like?
Your Schedule:
6:30am: Morning Practice
8:30am: Breakfast
10:00am: Morning Workshop
1:00pm: Lunch
3:00pm: Afternoon workshop
6:00pm Dinner
7:00pm Self Study or Evening Activity
(Saturdays normally half days with excursions; Sundays normally free for downtime and homework).
What if I have my 200 hour Yoga Alliance certification from another school?
You can still join our Advanced Yoga Teacher Training, so long as you already have your 200-hour Yoga Alliance certification from another school.
Are there discounts available?
Combo Trainings!
SacredDance + Yoga Teacher Training
Combine one of the Pachānanda Yoga Teacher Trainings with the SacredDance Initiation and Training
OR
Foundations Yoga Teacher Training + Advanced Yoga Teacher Training
Combine the Foundations Yoga Training and the Advanced Yoga Training
…And We'll Make You A Sweet Deal!
Check Out The Full Info On The SacredDance Training Here (LINK)
How do I enroll?
Get in touch with us at info@pachanandacusco.com and make an $800usd non-refundable deposit to reserve your spot.
Please pay the outstanding amount 30 days before the first day of the training
"Pachānanda Yoga Teacher Training gave me tools for spiritual growth, psychological hygiene and physical well-being. It was an all-around challenging, amazing and transformative experience. It teaches you not only to become a competent yoga teacher, but also to live your yoga. Also, the food was great."
"The Yoga Teacher Training program has been transformative! From learning about the ancient texts, the eight limbs of yoga and discussions on yoga philosophy, the program is expansive, enriching and enlightening. Niki has created such a magical and welcoming space, making Pachānanda feel like a home away from home"
"The Yoga Teacher Training was a beautiful time of healing and growth with beautiful teachers, participants, teachings, Pachānanda and all that is Yoga. I couldn't recommend it more!"